brand new apartments for 2, 3, 4 nebo 8 osob with restaurant, total capacity is 34 beds
a short walk from the Adršpach Rocks (15 km) and the Ostaš Table Mountain (2.5 km)
price per night only 550 CZK per occupied bed
no advance payments and the possibility of payment by card  
also suitable for larger groups or company employees
strategic place for trips around Broumov and Náchod (train stop in the village)

‌Are you looking for cheap accommodation in the region near Adrspach? Then be sure to find out about our comfortable apartments in Žďár nad Metují under the Ostaš Table Mountain and keep the sandstone rocks within reach! You will see for yourself that accommodation at Broumov region offers affordable rooms of a high level.
Pets are not allowed. 
Apartments

Brand new apartments in Žďár nad Metují
Accomodation Pod Ostašem can be found in the heart of the beautiful Broumov region, a region famous for being one of the largest complexes of sandstone rocks in Europe. The apartments in Žďár nad Metují are brand new, opened at the end of 2018. See how our other guests liked staying with us . We have a total of 34 beds, so we are able to accommodate larger groups or employees of companies.  
Guests can dine at the local restaurant, which is open daily. All apartments have fully equipped kitchens.
We do not charge any deposits when you are booking accommodation. You can also conveniently  pay for your accommodation by card. We also accommodate only for 1 night. A list of prices can be found in the price list.
‌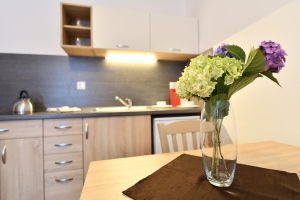 Room equipment
double beds, twin beds or bunk beds, extra beds available
bathroom with shower, toilet and hairdryer
WIFI connection
TV
table with chairs
‌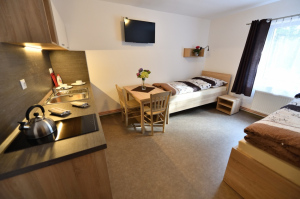 Kitchen:
induction double hob
fridge
basic kitchen utensils (plates, cups, cutlery, pan ...)
towels, dishwashing liquid
 Ask without obligation for a free term
Basic information about the process of the accommodation can be found in the instructions for guests.
‌Read the references of our customers:

"Nice new accommodation for a good price and with a kitchen in the room. There was peace and beautiful nature - especially the rocks. We will definitely come again."
Jana Vacková

‌

"We spent an extended weekend here and we enjoyed it. We were greeted by a nice lady, there was clean and new, unworn furniture everywhere. In addition, there are a lot of beautiful places to visit nearby. For me - I recommend."
Adéla Ducháčová