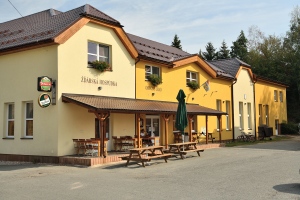 Accommodation Pod Ostašem in the village Žďár nad Metují offers accommodation již from 550 CZK per occupied bed with no cancellation fees..
Approximately 2.5 km from us rises the table mountain Ostaš and in the distance above 15 km, you can reach the Adršpach and Teplice rocks. The village is in the protected landscape area of ​​the Broumov region. In short, it is an ideal region for planning trips.
Our accommodation underwent modernization in 2018. It is adjacent to a local restaurant and groceries. There is a bus stop in sight and a train connection at a walking distance of about 600 m. We have 7 newly furnished rooms with a capacity from 2 up to 8 beds. You can check the availability of accommodation in the Reservation section.
Why stay with us
newly furnished apartments at a great price
no deposit or cancellation fees
card payments
only 15 km from Adršpach Rocks and 2.5 km from Table Mountain Ostaš
capacity 34 beds, vhodné i jako suitable as accommodation for company employees
train station in the village
possibility of eating in the restaurant on the ground floor
a short walk from the playground and climbing wall
strategic location for trips around Broumov and Náchod